Best cake smash backdrop has arrived!
First Year package
I have been doing cake smash photo sessions since I have been offering newborn photo shoots and a lot of families take advantage of the first year package.
But what is the first year package?
The first year package includes the following:
• 3x session (maternity, newborn and sitter session or cake smash/1st birthday session) Each of these sessions are 1 hour except the newborn one which between 3-4 hours
• Editing of your images including artistic enhancement
• Private online gallery and viewing session after each session to view your gallery of 20-25 images of each session. Please note NO PHOTOS are included in the package. After each session you have the opportunity to purchase from a range of beautiful products, wall arts or digital packages during your viewing session.
First year package is only £99 for 3 sessions. (Sessions only)

Cake smash sessions
The last session of their first mile stone we do is the cake smashes.
The goal is to capture their candid reactions and expressions as they interact with the cake.
I do provide the backdrop and props to create the best possible festive atmosphere for your baby. I provide some outfits too but you are welcome to bring any cute dresses for your little one.
As for the cake this is something that you need to bring.
I have been working with a couple of cake makers who come highly recommended.
One of them is Karley Joyce who will make you the most beautiful cake for a reasonable price and Cake Magic who can make your baby's most luxurious cake.
I have been doing and trying out lots and lots of set ups over the year but the latest one proves to be the most popular one.
Check out the video below and don't forget to turn the sound on:
Jungle themed cake smash
Isn't it cool? Lots of parents kept asking me whether it was really created in the studio?
Of course it was, and there is no better proof than the video itself.
Everything that you can see there is provided so we only need the cake from you.
And you guessed it right your the best to match it with the jungle themed backdrop so bring either a simple green cake or to make it even more unique, have some jungle animal decorations on top.
When you are asking your cake maker to create your baby's first birthday cake ask them to avoid fresh cream instead ask for icing that can be decorated and coloured. So basically the only difference between a normal birthday and a cake smash cake is the size. This cake is mainly for the baby so I would recommend 2 or 3 small layers of a 6 inch cake.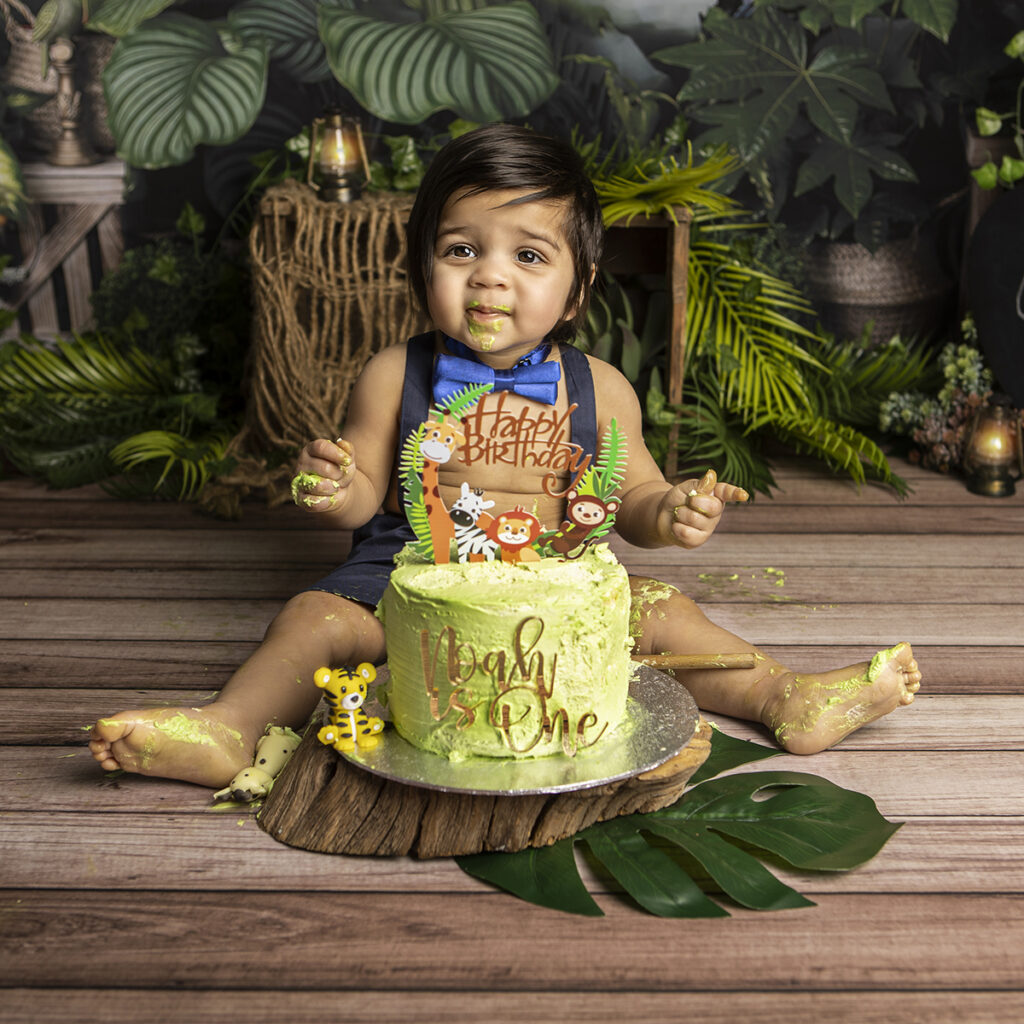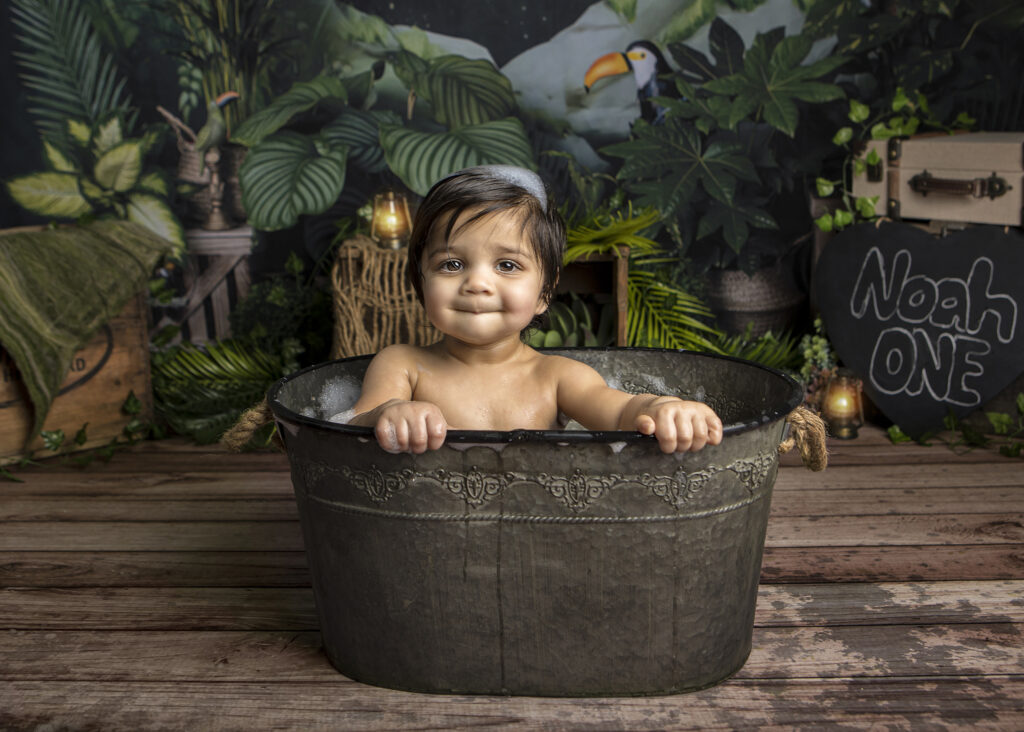 My child has food allergy, can they still have a cake smash session?
Yes, absolutely!
For children who have allergies to egg or milk products I would recommend to have a fruit cake smash. In this case I would create a fruit cake where the base is from watermelon and it has decorated with all other kind of different fruits like the one on the photo.
To summarize it, it is your choice what sort of cake smash you would like to celebrate your precious baby's first birthday but the jungle themed one come highly recommended from all regardless you have a baby boy or a girl.